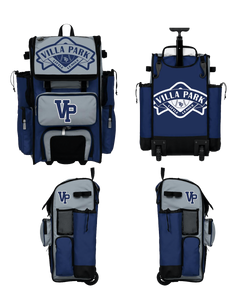 Rolling Bag - This is a preorder, these bags are due to arrive March 11th.  
**We will be making a very limited amount. 
The new and improved Superpack Rolling bat bag 2.0 is an extremely durable and versatile bag used for baseball, fastpitch and slowpitch. The new design of the bag focused on increased durability and longevity. Features such as Larger Heavy Duty Wheels and Wear Resistant Fabric have successfully accomplished that goal. Other features including a shoe compartment, 2 bat holders accommodating 4 bats, a telescopic handle and reinforced j-hooks continue the long standing tradition of convenience within the Superpack Bat Bag family.
Built to Last
Engineered with the highest quality materials, our products are made to work as hard as you do.
Heavy Duty Hardware
Heavy duty hardware includes zippers, straps, and fence hooks built for the rigorous abuse of the season.
Improved Base Chassis
Our new molded plastic base is significantly stronger and stiffer, preventing your bag from slumping when full. It also contributes to keeping the handle in place and maintaining its strength.
Larger Heavy Duty Wheels
The Superpack wheels are now 40% larger than before - now nearly 4 inches wide. The new and improved wheels lift the bottom of the bag over a half inch higher off the ground to prevent scraping on dirt and gravel.
Reinforced J-Hooks
Reinforced J-hooks make this bag easy to hang on the fence.
Shoe Compartment
Keep other items separate from the dirt and dust on your shoes by storing them in an individual compartment.
Telescopic Handle with Additional Handle Position
The telescoping handle has an additional, shorter height option for our younger players. The handle can now also be adjusted to a position 4 inches shorter than the standard, fully-extended length.
Valuables Pocket
Small exterior pocket made to store your phone, keys and wallet so you can easily get what you need, when you need it.
Wear-Resistance Fabric
A heavy duty fabric has been added to the bottom of the bag (including the bat sleeves), to further improve the lifespan of your bag. The material is specifically designed to resist scrapes and tears.